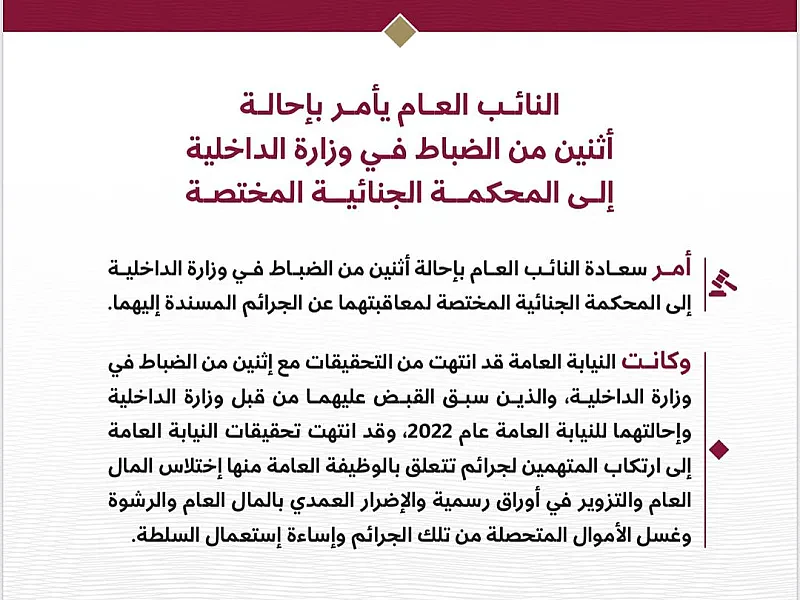 BY Lawyers 974
28 JANUARY, 2020
Two Ministry of Interior officials to face criminal court for embezzlement, abuse of power
The Attorney General of Qatar has ordered the transfer of two officers in the Ministry of Interior to the Specialized Criminal Court for their involvement in various crimes related to their public office. The two officers were arrested by the Ministry of Interior in 2022 and referred to the Public Prosecution for investigation.
The Public Prosecution found that the two officers had committed several offenses, such as embezzling public money, forging official documents, damaging public money intentionally, accepting bribes, laundering the money obtained from these crimes, and abusing their power. The Public Prosecution also seized their assets and bank accounts as evidence.
The Attorney General's decision was announced on the official social media account of the Public Prosecution on September 11, 2023. The post stated that the referral of the two officers to the criminal court was based on the evidence and the law. The post also affirmed the Public Prosecution's commitment to uphold the rule of law and protect public funds and interests.
The names and ranks of the two officers were not disclosed in the post. However, some sources suggest that they were working in high-level positions in the Ministry of Interior and had access to sensitive information and large amounts of money.
The Specialized Criminal Court is a judicial body that deals with cases related to terrorism, corruption, money laundering, cybercrime, and other serious crimes. The court has the power to impose severe penalties on the convicted, such as imprisonment, fines, confiscation of property, or even death.